ProGranola® - Chocolate Cluster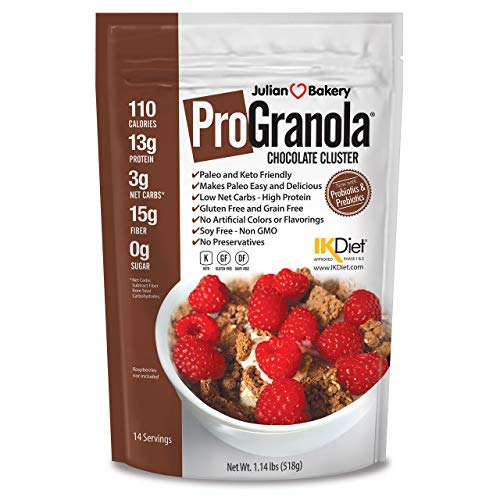 Net Carbs
3
Protein
13
Calories
110
CMMD Exchange:
1 Lean Protein (LP) / ¼ cup
ProGranola® - Chocolate Cluster
Chocolate for breakfast? Absolutely, thanks to ProGranola® Chocolate Cluster. And the good news is that you can crunch away without worry because we've skipped the sugar and kept carbs to a minimum. So, all you get are happy taste buds and lasting energy.
Paleo and Keto Friendly
High protein
Low net carbs
Gluten Free
Grain Free
No Artificial Colors or Flavorings
Non-GMO
No Preservatives
Soy Free
CMMD Exchange: ¼ cup = 1 LP
Ingredients
Egg White Powder, Organic Soluble Dextrin Fiber (Tapioca) (IMO Free), Organic Pumpkin Seeds, Organic Chia Seeds, Organic Cacao, Natural Chocolate Flavor, Organic Cocoa, Organic Sesame Seeds, Organic Unrefined Virgin Coconut Oil, Organic Shredded Coconut, Monk Fruit Extract, Produra (Probiotic).
Allergens
Contains: Eggs, Coconut
Manufactured in a facility that processes tree nuts