ProGranola® - Vanilla Cinnamon Cluster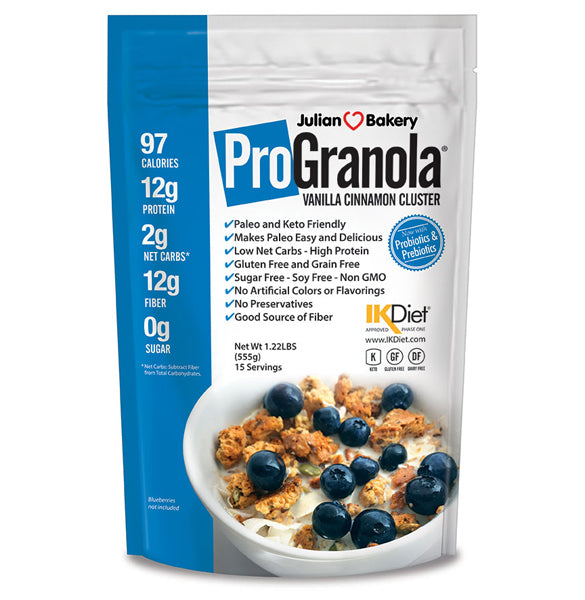 Net Carbs
2
Protein
12
Calories
97
CMMD Exchange:
1 Lean Protein (LP) / ⅓ cup
ProGranola® - Vanilla Cinnamon Cluster
This vegetarian high protein paleo cereal puts the crunch back in your food plan without setting you back. Finally a granola that is soy free, gluten free, grain free, low carb, and delicious. A unique crunchy, vanilla cinnamon tasting granola kids and adults love.
High protein
Low net carbs
Gluten Free
Grain Free
No Artificial Colors or Flavorings
Non-GMO
No Preservatives
Sugar Free
Soy Free 
CMMD Exchange: ⅓ cup = 1 LP
Ingredients
Egg White Powder, Organic Digestive Resistant Prebiotic Tapioca Fiber, Organic Pumpkin Seeds, Organic Chia Seeds, Organic Flax Seeds, Organic Sesame Seeds, Organic Unrefined Virgin Coconut Oil, Organic Shredded Coconut, Cinnamon (Ceylon), Organic Vanilla Extract, Lou Han Guo (Monk Fruit).
Allergens
Contains: Eggs, Coconut