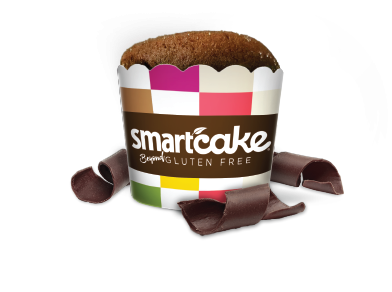 Net Carbs
4
Protein
4
Calories
38
CMMD Exchange:
1 Lean Protein (LP) / package of 2 cakes
Smartcakes - Chocolate  - 
8 '2-packs'
Heat these chocolate smartcakes for 2-3 seconds in a microwave oven and they are like a warm brownie with vanilla ice-cream, when topped off with our chilled vanilla ready to drink shake! The smartcakes are gluten free and have no sugar and zero starch! Only 38 calories per cake. No after taste!
Each box contains 8 '2-packs' or a total of 16 cakes
CMMD Exchange: 1 '2-pack' = 1 LP
Smartcakes® are not only gluten free, but they are free of sugar and starch. Baked with the finest ingredients, Smartcakes® are non-GMO, full of fiber and protein while being low in fat, making them a delicious, simple, convenient dessert or snack alternative. They bring you a healthy and satisfying experience that goes way beyond your expectations.

Chocolate Smartcakes Ingredients:
Eggs, Purified water, Proprietary fiber blend (Rice fiber, Oat fiber, Corn fiber, Flax meal) Erythritol, Whey Protein Isolate, Olive oil, Cocoa, Extract of Cocoa, Cellulose gum, Pure vanilla, Caramel color, Monk fruit, Citric Acid, Spices, Herbs, Salt